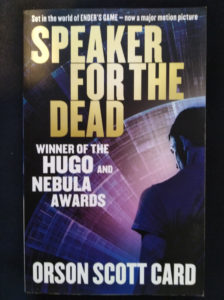 The second in the Ender's Game series.  It has a rather different feel from the first novel, which is very tight, simple, compelling and classic.  This one is a bit more of a fantasy sci-fi novel.  There are a few interesting alien species living on a planet and at risk from humanity.  Ender wants to protect them and form a Federation of Planets (no, that's Star Trek isn't it?).  I liked it enough at the time but it's not classic enough for me to re-read.
As a side note it does take advantage of a technique rarely used in sci-fi to good effect: the use of very fast space ships to travel into the future. Is time travel possible? Sure – at least travel into the future (the past is more problematic), provided you have a spaceship that can travel near the speed of light – it's in Einstein's special theory of relativity.
As a side-side note, if you want immortality you could possibly invent such a spaceship, travel into the future to a point where medical science has eliminated ageing, and Bob's your uncle.  Then again, it might be simpler to become a medical scientist and cure ageing yourself.
Anyhow, so that's Speaker for the Dead by Orson Scott Card.