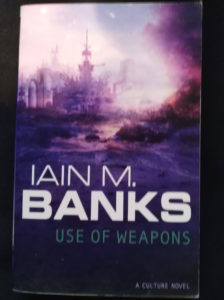 There must have been something in the air in the 1990s because authors all of sudden decided they need to structure their novels in piecemeal ways with bits of plot coming at you willy-nilly.  The English Patient and Last Orders both won the Booker Prize for their disorderliness, Use of Weapons not so much.  It still, however, racked up an award or two.  Personally I would have been happy to have given all of these books a miss.
When you play around with structure you can destroy tension, which is a bit of a problem – it took me half a year to creep through Last Order, and it's not a long book.  That's not to say that all books need to be packed with tension – art has its place.  Recently I read Report on Probability A (Aldiss) and it's crazy repetitive, but there was a good reason for it.  In Use of Weapons I mostly I got the feeling the author was involved in some kind of writing exercise and I was never engaged.  Still, if you can't experiment in sci-fi, where can you experiment?
This is the the third of the Culture series.  Again I recommend the second one – Player of Games.